Thursday 21st June
3:30am and the alarm rings. Exciting because our adventure now begins, but a little unwelcome after not being able to get to bed until 11:30pm and then receiving a text message that woke us just as we were falling asleep. We'd packed our cases between other tasks during Wednesday and were happy that we were ready to go, so a quick cuppa and a Herbalife Protein Bar each and we were on our way in my freezing cold car whose heater doesn't work. Noiselessly parking the car in David's parents' driveway and getting out the suitcases we now found ourselves standing at the end of their driveway in a near-freezing 2°C Perth winter's morning awaiting the taxi to take us the final distance to the airport. Thankfully it wasn't raining anyway. Three cars went by but it wasn't until the fourth silent arrival (the taxi was a hybrid) that it was our warm haven for the final stretch of our land journey.
The airport was as airports are and we bought some food and drink to pass the time, not knowing that we'd be served breakfast almost as soon as we got on the plane at 7:40am. But you know how it is, we squeezed the food in LOL
It was very exciting this time to be able to see our exact house from the air soon after take-off. Where we live now is pretty much unmistakeable from the air and I got a decent photo which I was very happy with.
We were in a huge plane with seating rows of 3, aisle, 3, aisle, 3 and very welcome personal TV screens in the back of the seat in front. I watched 'Wickie auf großer Fahrt' AKA 'Vicky and the Treasure of the Gods' a kids film in German with English subtitles which I really enjoyed and David watched something riveting enough that he can't remember anything about it now tee hee! [Update, one of the films was called 'John Carter'.]  This was our first time with Singapore Airlines and we were very impressed with the high level of service and care, as everyone had told us we would be. The lady in the seat next to us was reading a Hebrew book, which of course I found very interesting to peek at. She chatted a little and was on her first leg of travelling home to Canada. As David said, she must have been part camel because our bladders waited and waited for her to get out of her seat so that we could go too, but in the end we could wait no more and it meant disturbing her before she'd quite finished her meal *blush*.
The 5 hour flight went quite quickly and I did rest my eyes for a very short time but it must have been a good power-nap because I felt fine when we heard the engines change tone ready to land in Singapore. Singapore Airport has undergone quite an upgrade since we were there last. It was already a fantastic airport before, but now there are little alcoves to sit in filled with orchid gardens – so very beautiful. We found ourselves a nice spot all to ourselves and bought a coffee each (I never drink coffee but I did this time) and found 2 calf and foot massage machines and sat in those while we drank our coffee. We enjoyed 20 minutes in the massage machines and then sat on the floor and watched a TV show on our little laptop. After this we went for a wander around and ended up really wishing we'd done so sooner. In the centre of the terminal was a huge koi pond with the most incredibly beautiful orchid gardens surrounding it. The final part of the garden was still being planted. I took a mass of photos. How incredible to have such beauty in an airport!!!
From here we walked around a bit more, though we were now running out of time, and found a lot of touch screen computers for kids to play with – they were not yet working fully, but I'm sure they will be very soon. Also there were some long tables with a pile of paper and wax crayons and wooden shapes so that anyone could make a 'brass rubbing'. I was sooo impressed, and hoped to be able to spend more time here on the way home.
The flight to Phuket, flying Silk Air, was only 1½ hours and pretty much all over land. We were served yet another meal that we didn't want or need but never mind. Food passes the time on flights, I think that's its only purpose really. This time the person next to David was a guy from Telfer, a remote mining town in country WA, and he was really cheery and chatty and gave us some nice tips about Phuket.
Coming into Phuket we were surprised to only have the passport check – nobody was home on the customs desks and we all walked right through!
We found our Club Med girl fairly easily. Everyone that offered us transport pointed us in the right direction as soon as we said Club Med and the next thing we were off in a beautiful 15-seater mini bus getting our first impressions of Phuket.
The most glaringly obvious impression was the power lines between, and all over, the power poles. We've never seen anything like this in our lives!!!
But Phuket was lovely. Green, very hilly, clean and, compared to Bali, very modern indeed. The journey was probably about 50 minutes and we saw a fair number of scooters and a lot of very nice cars and mini buses. The traffic was quite light-on and something we could imagine driving in ourselves. However, there was a little bit of 3 vehicles wide in 2-lane roads, and a little bit of motorbikes heading towards you on the wrong side of the road. Not in plague proportions though.
Over the brow of a hill and the ocean came into view – well, the Andaman Sea actually – down a very steep, narrow and winding road, and very soon we were pulling into the Club Med driveway to be officially greeted with a scented refresher towel and drinks of cold water and iced tea. Once we'd used these and listened to a short talk we were lead to our room. Please take careful note so you can find your way back, or to the room again ROFL
Turn right from Reception, left past the Boutique then right again, left towards the main pool, right past the dining rooms and down some stairs, right, left, right, take the right fork past Payot Spa and walk 150 metres, fork left at the Mini Club, past a site map, 50 metres, left at the building named Quoral and past the laundry room, right before the building named Ranong and 50 metres past Sukhothai and Tak to the quiet pool entry, left to the building named Uttaradit, right up 8 steps, right up 8 more, and right again and walk until the 4th room on the left. Club Med had buildings named with letters A-L on the left of reception and M-U on the right. We were the lucky recipients at the far end of U. Only 2 rooms separated us from the beach, except you couldn't get out of the Club there, you had to go all the way back to reception and then turn right to the one on-foot exit to get across a road to the beach.
But I'm side-tracked. The room was quite large but totally filled with the most massive bed that had to be 7' long by about 8' wide. This meant that sidling along to access the wardrobe wall was actually a bit tight. Inside the wardrobe was an emergency torch, as all hotels seem to have these days, but the sign above it was.. well… amusing to say the least!
Life jacket??? We were on the middle of 3 floors!!! (GM means Gracious Member which is just the Club Med name for a guest. The staff are called GO, meaning Gracious Organisers (I think).)
There was also a day bed around a corner of the room with a small fridge, a kettle, 2 mugs but only 2 sachets of coffee which were never topped up. A small 'desk' was tucked into one corner with a large square stool and wi-fi access and we had a couple of windows and a tiny balcony with no furniture on it. The bathroom was small and dark, but adequate, and the toilet had a very large oval pan but was less than knee-height. I felt for any tall guys. As with almost all of the toilets in Phuket, you had to shut the lid to find the flusher.
We were definitely ready for our dinner by now and need congratulating for finding our way back to the dining area. The meal was the usual Club Med international buffet with a wide variety of foods to suit any culture. This one was waaaay less crowded than the Bali Club Med dining facility had been and we enjoyed looking around to see what we would like to eat. I was also very impressed and grateful to find a section where there were always some vegetarian foods all in one place. And the spread of desserts was quite decent and varied too mmmmmmmmmmm.
After dinner it was time for the show at 9:15 and we know well not to miss the shows – they are always very well done and we were not disappointed. Tonight was a Revue and an excellent show! We enjoyed a drink each from the bar while we watched the show from an upper balcony near the sound and lighting desk.
And then it was most definitely time for bed. We'd been awake for 20 hours and only had 3½ hours sleep the night before! It took 3 attempts to find the room in the dark but the wrong turns were short-lived before we realised and went back. In our state of tiredness I think we both did very well indeed. We showered, quickly checked our email to find one from our eldest to say that a Perth woman had been stabbed in Phuket the previous(?) night, and fell into bed into a deep sleep.
Fri 22nd
Awoke stiff from sleeping on the sheet-covered rock that was pretending to be our bed. I'll be the first to admit we're used to a waterbed so anything with a normal mattress is going to seem hard though.
We found our way effortlessly to a very nice breakfast, at which there were pancakes with maple syrup, my absolute favourite, and we made rather piglets of ourselves with the pastries afterwards as well. David had also fallen all over himself with delight at the bacon which was cooked to perfection on a grill by a really friendly chef. Then we had to be in the theatre for 10am to be shown around the club. It turned out that there were a lot of Asian people who ended up being shown around by someone who could speak to them in their native tongue and just David and I left for Sora, who spoke excellent English, so we got a private tour of the theatre, bar, dive centre, table tennis, spa, laundry room, hairdresser and a few other things, but when she found out our room was in block U she just waved that the quiet pool was beyond that and the a la carte restaurant next to it. She also just waved in the general direction of the archery, tennis and golf, saving us all quite a significant walk.
Now free to do as we pleased we got changed and went to the quiet pool and were delighted to see that one wall of the pool was glass so I took the first of quite a lot of photos of David under water. It was great fun.
After this we went to the Tour Desk to see what trips we would like to book, and made a thorough nuisance of ourselves, coming and going and asking questions of the gorgeously helpful and kind French GO working there. We asked a few things and then went away to think about it, asked more and went away again, and then went with the intention of booking but had not yet got a charge card. She took it all patiently in her stride and we totally fell in love with her. Her wide innocent eyes and the way she paused occasionally to translate what she wanted to say into English in her mind and then spoke in a rush was so adorable. It turns out she had only worked at Club Med for 8 days and I think it was her first English-speaking job as well. Yet she was wonderful with her knowledge of the trips, including some hints and tips about them. Her name was Zelie – not a name I have ever heard before.
We eventually got a charge card and booked for the Simon Cabaret, a Junk Cruise and the FantaSea Show and then set out to walk around the shops just outside the Club Med gate, wanting to buy David a pair of thongs (jandals, flip flops, or whatever you may call them in your country).
We didn't find any at all, but enjoyed a look around, and managed to fob off many tailors and offers for a massage!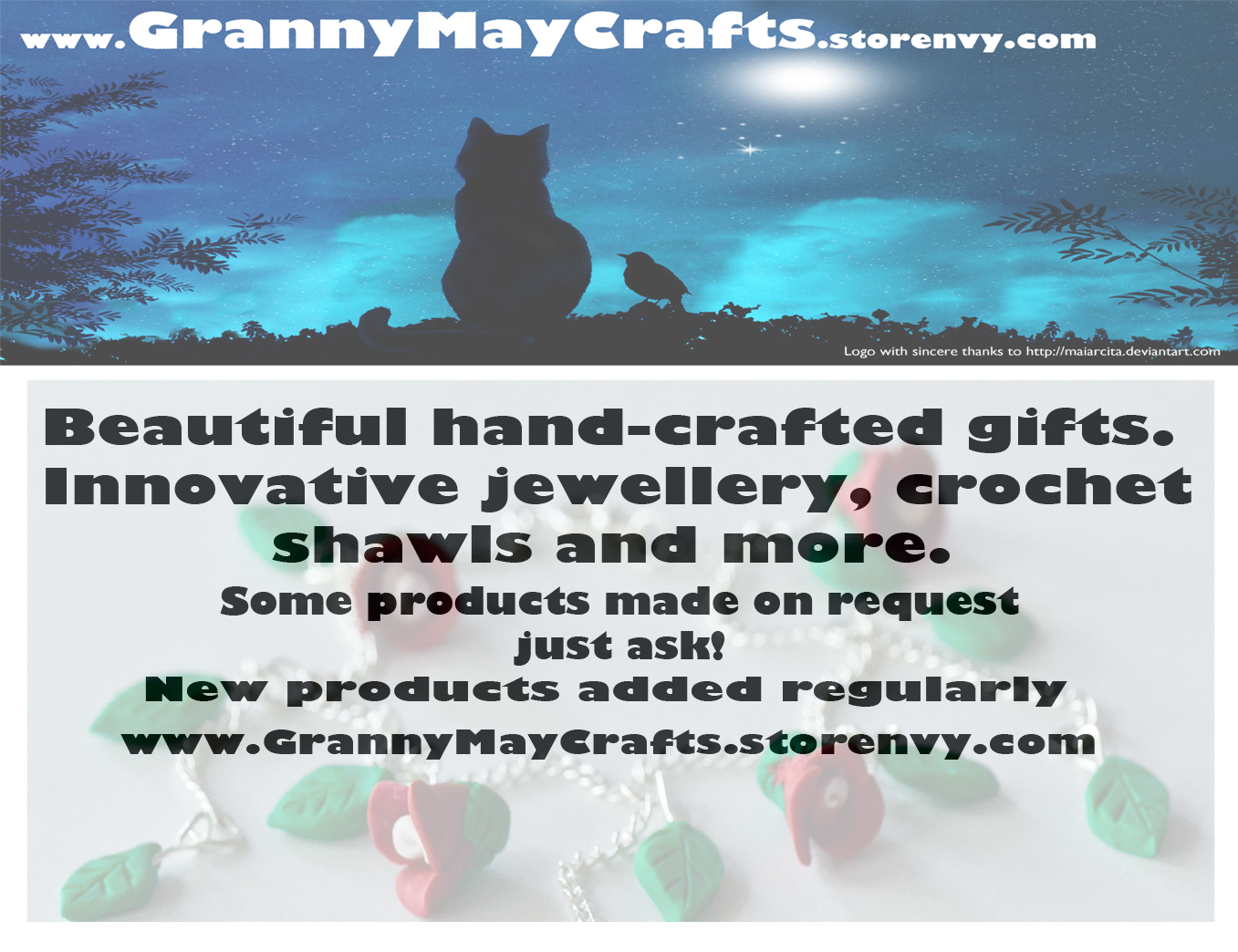 Granny May Crafts
Next thing, we had to rush back to Club Med to have dinner and then go out to the Simon Cabaret.
Here's one of the birds that frequented the dining room. Well, they were all over the place, but this shot was taken near the dining room, and they did fly through the open air room that we liked the best.
We'd actually got more time until 'Simon' than we'd realised so we went to the quiet pool for the last 10 minutes before it shut and then had a quick shower before dinner.
And here is a view from our favourite dining room, past another dining room and across the pool to the theatre.
Once we'd had a leisurely dinner we went and hung around reception waiting for the buses for 'Simon'. There were 2 buses put on for us and we watched the night life outside the windows as we drove along. The journey was about 25 minutes I suppose. I'd been told to leave my big camera back at Club Med in our room safe and we just took the little one along. Taking photos during the show was strictly forbidden at risk of a US$50,000 fine, so the sign told us before the show started. There was a bottle of water in the holder of every seat which was such a nice touch for the hot weather.
The show began with a bang. The music was very loud (I like loud) and the bass was mind blowing! I like bass very much but this was pile driving its way through my stomach and all the food therein. I found myself putting my hand in front of my stomach to try to shield it somewhat LOL
The costumes and dancing were really amazing. I should say here perhaps that all of the lady dancers in the show are known locally as 'lady boys' because they are transsexuals but there were guy dancers too. We'd been told that all the dancers were actually male but when you compared their legs there was no way the 'female' dancers were still guys! The lack of muscle tone compared to the men was *very* noticeable.
The only disappointing thing was that all of the singing was miming so the show truly was just costumes and dancing. There were 2 comedy songs put on by a chubbier dancer who was very game! The show lasted about 90 minutes but it was very good. I would see it again.
Afterwards we were all ushered out of a side door where all of the dancers were lined up. We'd been warned by Zelie to hug the back wall and take photos unobtrusively. If you are at the front they will grab you to have your photo taken with them but then have to pay them 40 THB each for the honour. We were told afterwards that once one grabs you then you are fair game for all the others before you can escape.
The 'girls' were incredibly beautiful and the costumes were spectacular as you can see…
We then couldn't find the Club Med bus to get home again!!! Just on the verge of retracing our steps, David suddenly bolted through a bar and out the other side and there was our GO waving the Club Med sign high in the air. We were last back – sorry everyone!!!
I totally adored this rose dress and can just see my Mum wearing it with delight! The act it had been worn in was my favourite of the night too.
We got back uneventfully and went to the bar for a drink. I'd tried 2 cocktails that I didn't like by now so settled tonight for a Pina Colada and stuck with it for the rest of the holiday. There were some people dancing to the DJ's music when we arrived but the machine he was using switched from the techno-style music that everyone was enjoying to a girl band and the floor cleared in a big hurry. When the music even clears the DJ away you know it's rubbish LOL
We went to bed at midnight and had had a very nice, and varied day.
Please feel free to leave a comment in the fields below before leaving this page. Email addresses will not be used in any way, nor displayed for anyone to see.