Wed 13th continued.
Now, where was I?  Ah yes, we'd just had our elephant safari and taken pictures so were now ready to find Moh (hoping he was still around!!!) to drive us home again.  We needn't have worried; well, we didn't!; there was his smiling face exactly where we'd left him even though he'd moved his car.
As we drove towards home we were telling him that we weren't comfortable bargaining to buy things and he offered to take us to a shop with set prices.  Oh yes please!!!  And I also mentioned the amazing horse statue that had taken my fancy as we zoomed past it the previous day with no chance to take photos, asking if we would be passing it.  Moh assured me that we could easily go to the statue and stop so that I could take all the photos my heart desired and he was as good as his word.
Isn't it fantastic?  And completely clean and wonderful to be enjoyed by all.  No graffiti or damage as it would have here in Australia.
The statue was in the middle of a road island near a set of traffic lights and these lights amazed us too because there was a numerical countdown for when the lights were going to change colour.  Here you are – green for another 15 seconds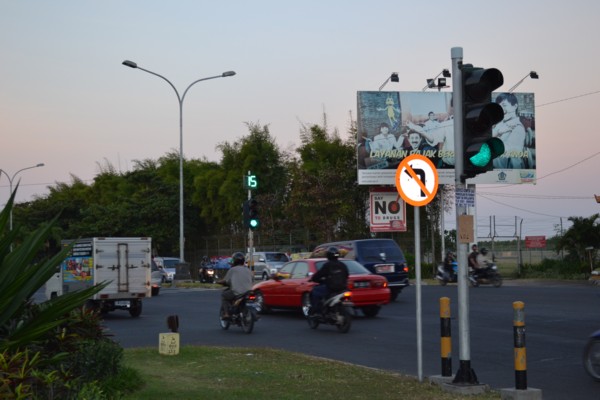 And red for another 58 but to be honest, who the heck cares because not only did the cars in the middle of the intersection get there after it turned red, the half-car you can see on the right is heading that way too.  But nobody beeps, nobody gets angry, the green light people just start moving and they wend their way peacefully through each other like some choreographed Maypole Dance!
While I'm on the topic of roadside statues, here's another.  They really were the most ornate and intricate creations and very beautiful.
We saw Moh pay a man and presume it to be for having parked for the 5 minutes or so while we took our photos and then we drove a very short distance to the 'fixed price shop'.  The shop was called Krishna's and the horse statue had been dedicated to the god Krishna.  Whether those 2 facts were related I do not know.
We didn't quite know what to do with ourselves in the shop because the first section was full of boxed foods, all unknown to us, and the second was full of wooden things and we certainly cannot bring wood home past customs into Perth.  But at the back we found a massive section with clothing and slowly got into the swing of things though the prices looked horrific!  R4,900.00 for a small child's garment and, no matter how much we convinced ourselves that this was very roughly AU$4.90 it was very hard to believe.  In the end though we picked up a few gifts for our grandchildren and 2 dresses for me.  The rest of the shop was mostly full of wood or cane items that we could not bring home, as I've said.
As we left this parking area, Moh gave some money to another man who strode out into the traffic waving 2 batons and stopped the traffic so we could turn right.  Whether the money had been a parking fee or a fee for help to rejoin traffic I do not know.  Either way, David and I looked at each other and said "We'll fix that!"  After all, Moh had been paid by Club Med to take us straight to and from the elephants – not joy-riding afterwards – so we were not going to leave him out of pocket.
We travelled home uneventfully but still in awe of the traffic.  I never ceased to be amazed by it, and David horrified by it.  We left Moh with a decent tip to cover his additional expenses as he pressed a piece of paper with his mobile number on it into our hands.  I have to say he was a lovely man who could not have been more obliging if he tried so may as well share his number here in case anyone is going to Bali so that you can use him  081 236 463 269
We were relieved to be safely back and were very ready for our dinner!!!  Each night the restaurant had a suggested dress idea but we'd been out all day and had no clue what it was so we just rocked up in what we were wearing.  In actual fact it would be lovely if they let you know before you left your homeland what the dress ideas would be so that you could go prepared.  Anyway, I think tonight was 'black and white'.  Other nights were things like 'jeans and black', 'elegant with crazy hair or hat' and a couple of other nights where we didn't bother searching out the scarce and hard-to-find notices and rocked up as we were.
Dinner was much the same as last night, and the nights to come except for 14th July (which is another story yet to come).  In our opinion the Asian sections of the restaurant were a much larger percentage of the foods than the percentage of Asian guests, but we could be wrong.  And for the most part, understandably, the Asian foods were not to our tastes.  We love Thai food and there was never any of that.  We love Western-style Chinese foods but there were only rarely anything that could squeeze into that category.  I'm talking sweet and sour fish, satay prawns and the like that we'd have welcomed.  What they did have was things like (shuddering!) whole fish or heaps of meat dishes including animals that made me very sad to think that they'd been killed and cooked.
The main thing that was a major problem to me was that despite having sections for almost everything there was not one for vegetarians so I had to pick carefully along the rows of foods reading the labels – almost every dish had one so that was good.  But one led me sadly astray.  It said tofu somethingoranother so I said whoopee and put some on my plate.  It was only as I took my first bite that I realised the sauce it was in contained minced meat.  I felt quite sick.  I haven't eaten red meat in 25+ years and did not welcome it now.  Isn't tofu for vegetarians?  Apparently in Japan (which I think was the section I found it in) it is not.
While I'm talking about the meals I'll get this opinion out of the way too.  The meals really were not very warm at all.  I understand that by the time you've wandered around a large buffet they will have chilled more but even allowing for that they were not hot when they hit our plates.  I do though appreciate that they served 4,000 meals a day and there must be very difficult logistics attached.
The show after dinner was called Neverland and was a story about Peter Pan – now there's a surprise LOL  But I have to admit to being rather tired and did not take any photos.  And the cocktail I tried this night was no better than the night before – very bland.  Oh dear, it seems I have my whingeing hat on *grin*
It's been a long time since a photo so here's one of the gorgeous lamp in our room.  For the first 2 nights it had oil in the top which smelled pleasant but we think was also a mosquito repellent.  It was never topped up again though.  However, it served as a great night light so I didn't bother with my torch for loo trips and we wore our eye masks while we slept.
And so off we went to bed after a busy day.
Thu 14th
Breakfast included pancakes with maple syrup – what more is there to say?  Yummmm!  Though one poor young lad at the table next to ours had his pancake stolen by the squirrel and began to cry.  His Dad was off at the buffet so David and a lady comforted him until his father returned because he'd refused David's offer to get him another pancake.
After breakfast we went for a wander down to the beach and headed left where we saw signs for an 'Art Market' so we took a left along the outside of the wall of our resort and sure enough there were some stalls with the usual things for sale.  Wooden crafty souvenir things and dresses and sarongs by the million, all accompanied by the ladies plying us with "You want massage?" and our reply "No thank you".  This was always met with the predictable "You buy dress?"  "You come look?" as they tried to get us into their lairs.  David told them "No money!" which we didn't, we'd gone for a wander along the beach and Club Med is cash free seeing as there's nothing you need to purchase, but they laughed and didn't believe us.
Eventually we got through the market and out into the road beyond.  There was no footpath to the left on our side of the road.  None on the other side either but a tiny width of sand that would suffice and keep us facing traffic but crossing the road was quite another endeavour.  The natives would have stepped into traffic flapping their windward arm with every confidence but that takes more guts than either of us have so we waited.  Several taxis beeped at us offering their services and we began to think that would be the best option to get to the other side but we stuck to shaking our heads madly and saying our well-practiced "No thank you!".  This was only a single lane each way back-road but the traffic never stopped.  Finally there was a gap and we hastily took it as a laugh and a cheer went up from behind us.  Probably nothing to do with us but I laughed imagining that the locals had taken bets on the length of time it would take us to cross and someone had won.
I have to say that we were quite shocked at how far around we had to walk to get to the Club Med front gate – and how many proffered taxi rides we had to refuse along the way.  We also had to pass both security points which was a surprise; we didn't realise we were outside the first one.  But once back into Nusa Dua – which is the posh, clean, touristy part of Bali – we laughed at this rubbish bin.
When we got back we went and sat on one of the lovely round beach chairs for a while – just to celebrate that we'd found one free really.  We wished that the canopy pulled right over so that we could snuggle in private but they were anchored.  Our main entertainment during this half hour or so was a young Asian boy with his dad.  It seems they'd found a crab.  We knew this because the pair of them were peering at something with great interest when suddenly the boy began to cry and there appeared to be a bit of a panic to remove the offending crustacean from the boy's fingers.  Ten minutes later the scene was repeated exactly, and again a third time a little later.  David was laughing and saying "Obvious answer, let the bloody thing go free!" which made me laugh as well.
Once that entertainment seemed to be over we  decided to spend the rest of the time before lunch at the quiet pool.  Aaahh what a life!
In my notes I now have written 'French boring lunch' which are obviously David's words, but it brings to mind the fact that many of the desserts after dinners and lunches seemed to be remarkably tasteless.  What ingredients does one use to make something that tastes of nothing?  We found ourselves wondering this many times as we tasted brown things, white, things, green things, flat things, round things, square things that all tasted of nothing much at all.  And then occasionally there would be a really nice one
Oh, the reason for the French lunch was that this was Bastille Day and I guess because Club Med is a French company, and the boss of the resort was French (we quietly referred to him as Monsieur Le Francais) and a lady that appeared to be in charge of front-of-house in the restaurant who we called Madame La Francais, a big deal was made.  Anyway, here's the bread table at lunch which I have to admit looked impressive.  Whether it would have been welcomed to break the top off the Tour Eiffel, stick in on your plate and add butter I'm really not sure!
After lunch I decided on a granny nap and David sat on the verandah with his trusty book.  I truly couldn't tell you what we did for the rest of the afternoon.  More of the same I suspect, wander around the beach, quiet pool, wander around the tennis courts and explore where the golf was.  Nothing of any remark anyway.
The evening brought the promise of a French banquet and all the stops were out for presentation around the dining hall.  The bread Eiffel Tower had been replaced with a carved ice one and there were impressively carved watermelons all around the dining hall along with red, white and blue decorations and banners and dimmed lighting.  It really did look good.
I haven't mentioned yet that as we were seated at each evening meal we were offered a glass of wine.  That was it – one – so I took to saying yes please as well so that David could have both.  I've tried not to compare this holiday with Club Med Whitsundays but there at dinner you helped yourself to either a glass or a whole bottle of wine!  Anyway, for this meal there were crepes for dessert so that made 3 meals this day I'd had pancakes.  They made up for the other watery dessert excuses LOL
Well, I am going to stop here because there is lots to say about the excellent evening show and I'm going to save it for tomorrow.
Please feel free to leave a comment in the fields below before leaving this page. Email addresses will not be used in any way, nor displayed for anyone to see.